Research 2020 KIA Telluride in Greensboro NC for Sale in Greensboro NC near Winston Salem
Research 2020 KIA Telluride in Greensboro NC
Vehicle Overview
Called the new face of luxury SUVs, you can tell at first glance that you're in for something special with the 2020 KIA Telluride. Glamorous from the outside and filled with the latest amenities, the KIA Telluride is not an SUV you'll want to miss seeing in person. Once you see it, you'll want to take one home. Fortunately, you can try out this stunning SUV at Battleground KIA serving Greensboro High Point Winston Salem North Carolina. The SUV features a futuristic appeal with a modern, bright interior that offers panoramic views through larger-than-average windows. Three rows of seats and second-row media controls make the Telluride comfortable for even your longest expeditions.
Exterior – 2020 Kia Telluride
At first glance, you'll see that the 2020 KIA Telluride's uncommonly good-looking exterior matches its stunning interior. LED indicator lights, unique vertical taillights, and a metal skid plate give the 2020 KIA Telluride in Greensboro a distinct look. The SUV also features an oversize grille with a tiger-nose design, which is KIA's signature look. The base trim rides on elegant 22-inch wheels that can be customized with a variety of choices for a truly authentic look. From the back, dual exhaust tips give the Telluride a striking look, while its back doors open to 90 degrees to enable easy loading and unloading of cargo. The external spare tire provides added assurance on the road, and a variety of optional amenities and packages give you the ability to create a custom look and custom experience in your Telluride as you're driving around town.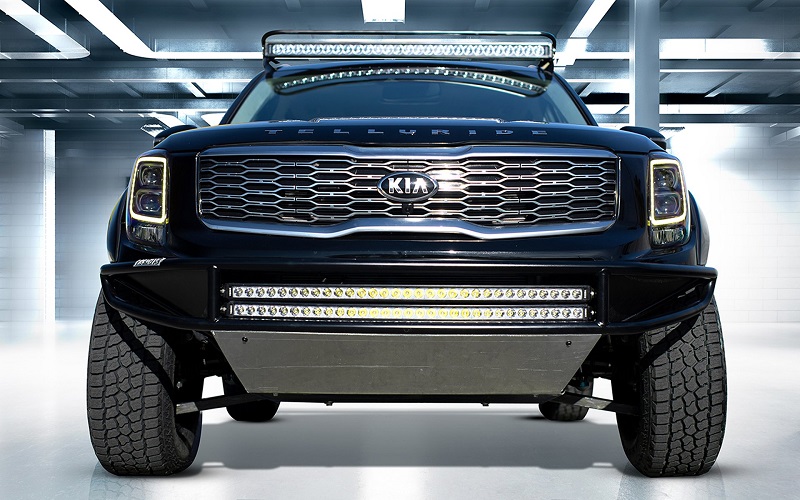 Interior – Kia Telluride in Greensboro NC
Inside, you and your passengers will find that riding in the 2020 KIA Telluride in Greensboro feels more like a first-class flight than a car ride. Bring the whole family to check out the vehicle at Battleground KIA serving Greensboro High Point Winston Salem North Carolina to see for yourself how much space it has. Four captain's chairs, which are available in a sophisticated black leather material, ensure that even adults in the back rows have plenty of room to relax and spread out. A media center gives the driver and front passenger control connectivity and convenience at the touch of a button. Here, and in the second row, there is easy access to the volume controls for the car's premium seven-speaker sound system. A novel feature that makes the Telluride stand out from its class of large 2020 SUVs is the fact that it has an LED panel mounted to the ceiling. There are also panel-mounted viewscreens on the passenger doors that give back row passengers the ability to enjoy entertainment and audio.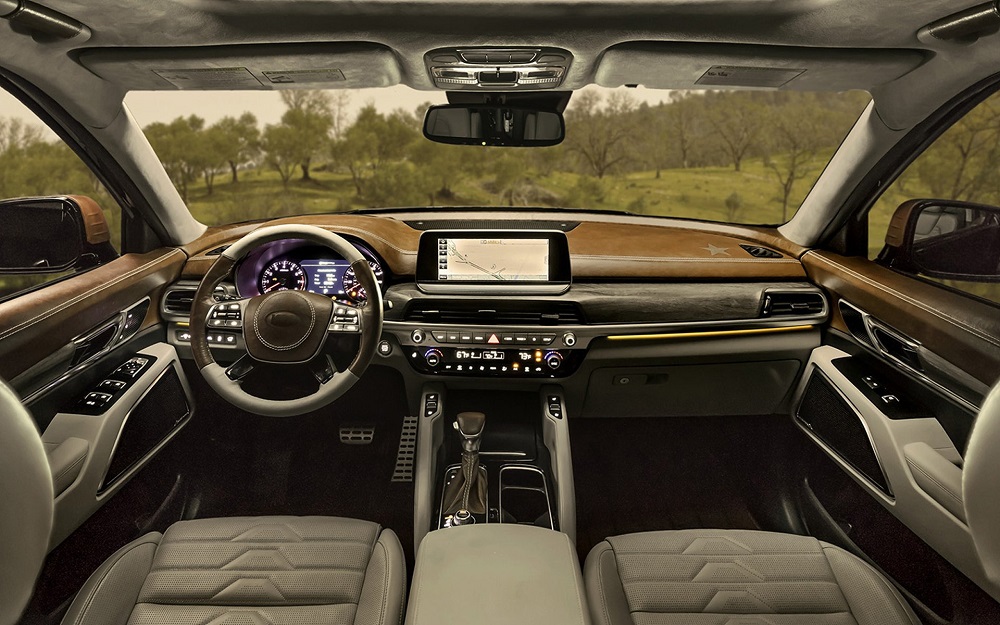 You've probably never been in a car before that provides real-time information about your health, but the Telluride keeps tabs on all your vital health information so that you know instantly if all is not well. Finally, an oversize sunroof gives passengers the option to enjoy abundant sunshine or watch the stars.
Mechanical – Kia Telluride specs in Greensboro
The all-new KIA Telluride is powered by one of two engines. The standard engine is a 2.4L, four-cylinder engine. This engine is the same one that you'll find in the KIA Sorento. An available option, which may be standard on higher-level trims, is a powerful V6 engine. The company also reports that there will be a hybrid version of the 2020 KIA Telluride in addition to one that runs on standard gasoline. The hybrid engine is expected to produce up to 400 HP, and it has the highest average fuel economy of all the SUV's options.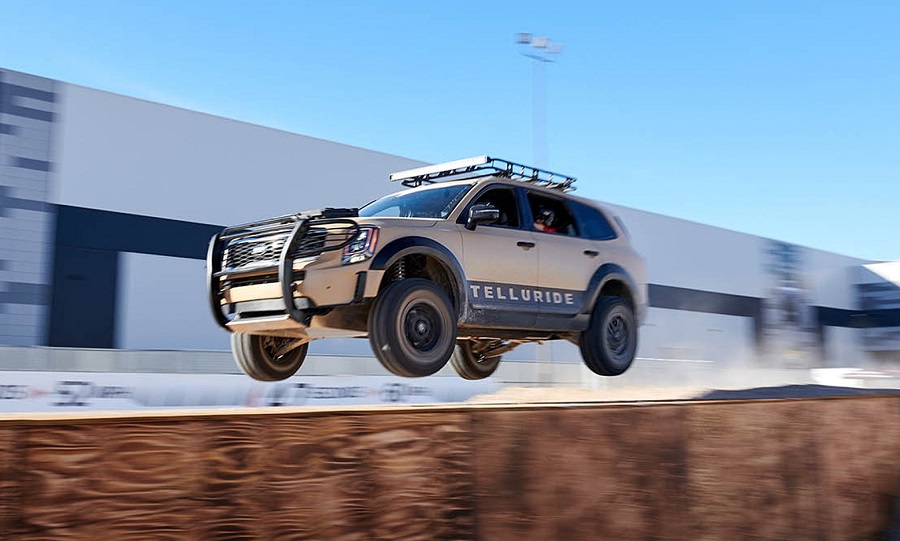 Powertrain – Kia Telluride specs in Greensboro NC
Despite its luxurious interior and good looks, the 2020 KIA Telluride in Greensboro is surprisingly rugged. Powered by a sophisticated all-wheel drive system, the Telluride offers confidence-inspiring handling in all kinds of weather conditions. All engines are matched with an automatic transmission for convenience, and they are paired with a traverse-mounted powertrain. A spare tire, mounted high on the back of the Telluride, gives it a tougher outer appearance. This look matches the responsive steering and suspension system that is designed to help the Telluride power through sand, mud, and water. Adding to the SUV's durability is the fact that it is longer and wider than any other KIA SUV. This gives it an even more solid feel as you're driving, regardless of whether you're on the road or off the beaten path.
Safety – 2020 Kia Telluride dealer
In addition to being one of the most striking vehicles on the road, the 2020 Telluride is also one of the safest. First-class safety has always been a priority for KIA, and in fact, it's one of the company's best selling points. Rest assured that KIA carries its award-winning safety technology over to the KIA Telluride too, making it even better than ever. Both driver and passengers can ride in confidence knowing that they're protected by a suite of standard active and passive safety features including airbags throughout the cabin and mounted to the roof, as well as an enticing suite of driver aids.
If you're looking for a large SUV that has plenty of room for family and friends, the 2020 KIA Telluride is one to watch out for. The Telluride is KIA's largest, boldest, and most futuristic vehicle yet. With all the amenities it offers and its designer-inspired looks, the Telluride is sure to steal the spotlight among its 2020 competitors. Don't wait for your chance to try out this stunning vehicle! Call or contact the friendly, helpful staff at Battleground KIA serving Greensboro High Point Winston Salem North Carolina to learn more about the Telluride and find out when you can take one for a test drive.