New Kia North Carolina Research – 2019 KIA Stinger for Sale in Greensboro NC near Winston Salem
North Carolina Research – 2019 KIA Stinger
Vehicle Overview
The 2019 KIA Stinger in North Carolina takes a few shots at the industry's long-term best-sellers. With its sleek style and well-tuned handling, as well as its powerful twin turbo engine, it's a well-balanced machine indeed. The Stinger raises the stakes with its chiseled body and its polished interior, and we believe it can hold its own on the street and the strip. Read on to learn about the new 2019 Stinger, which is on display at Battleground KIA, our North Carolina KIA dealership.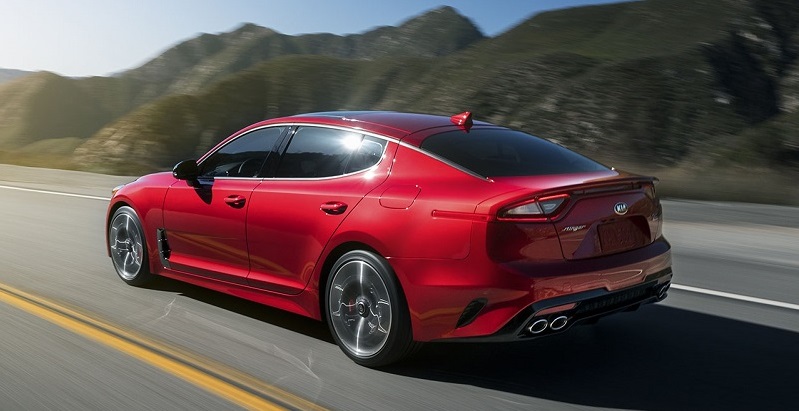 Exterior – 2019 Kia Stinger
The 2019 Stinger's exterior styling is a real winner among North Carolina drivers. It's inspired by 1970s Italian sports cars, and its striking looks are a great match for its comfortable cabin. Its long hood, short overhang, and tall roofline give it proportions not found in any front-wheel-drive car, and its creases and ducts make it a real standout. Large metal-rimmed gauges, a thick leather-covered steering wheel, and optional nappa leather are great touches. The new 2019 Stinger combines luxury with fastback style, and it does so admirably. Visit Battleground KIA, our North Carolina KIA dealership, to see it for yourself.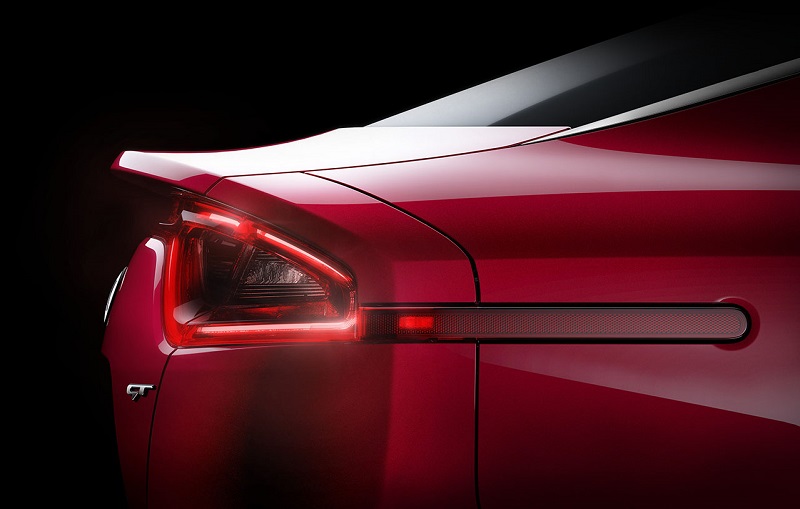 Interior – Kia Stinger in North Carolina
KIA has learned from the success it's experienced with the K900 and the Cadenza, its more expensive sedans. That heritage shows in the 2019 KIA Stinger; its cabin is soothing and quiet, its front seats are supportive and comfortable, and there's plenty of storage room. On the base model, the driver gets 12 modes of adjustment and lumbar support. On higher-tier models, you'll get 16-way adjustment, lumbar support, and cooling and heating. All Stinger models have leather seating, while the top models are available with nappa leather upholstery.
The rear seat gives passengers plenty of room, but the fastback roofline leaves less headroom for the tallest riders. However, that roofline also gives it more cargo area than most sedans: 23.2 cu. ft. behind the rear seating row, or 40.9 cu. ft. with the rear seats folded down. That's just practical enough to make the 2019 Stinger a viable compact crossover alternative. The interior of the 2019 KIA Stinger is well-trimmed, with leather and soft-touch surfaces throughout.
All Stinger models have power front seats, leather, auto climate control, paddle shifters, cruise control, and 18″ wheels. They are equipped with great audio systems, including a seven-inch touchscreen infotainment system, AM/FM/XM radio, smartphone connectivity, and Bluetooth integration.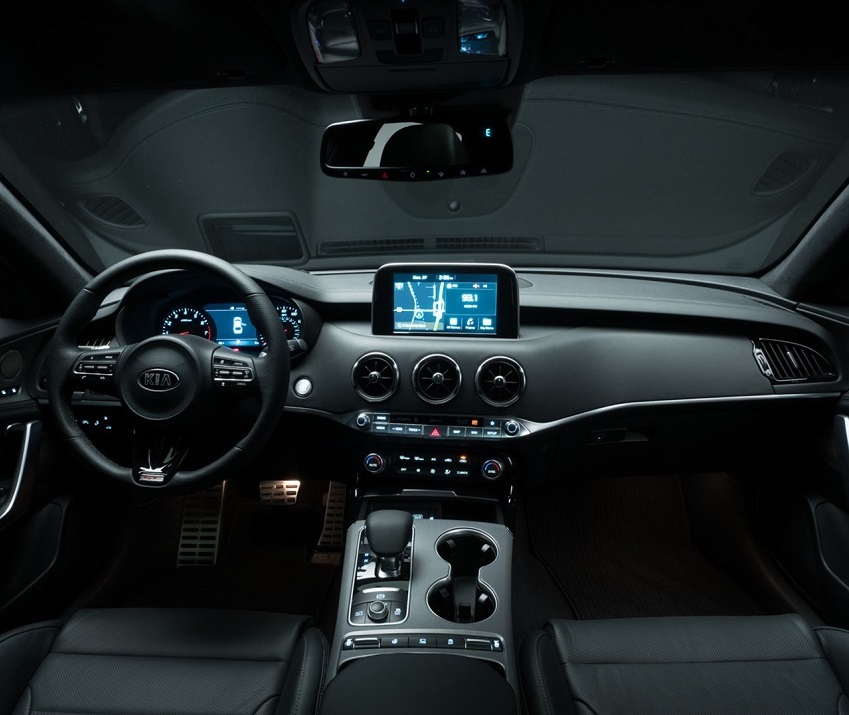 Mechanical – Kia Stinger specs in Greensboro
Base models come with a 255hp turbocharged four-cylinder. However, if you're looking for a bit more pep in your step, consider upgrading to the twin turbo, eight-speed, 365hp GT, which can propel you from 0-60 mph in less than five seconds. As the 2019 KIA Stinger in North Carolina is available in front- and rear-wheel-drive configurations, you've got options; if you go with the rear-drive model, you'll get a limited slip differential. With its slightly plush suspension, the GT delivers quick steering and a composed ride, but if you're planning to hit the track in North Carolina, you may want tires with a bit more grip.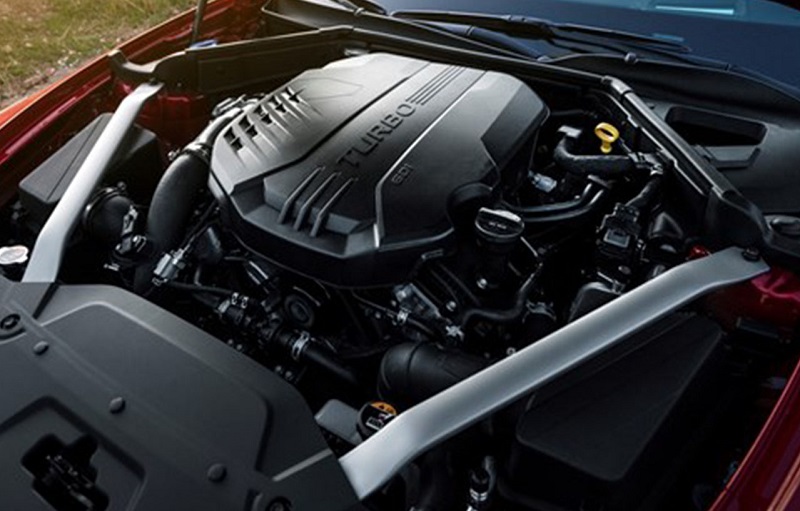 Powertrain – Kia Stinger specs in Greensboro NC
The 2019 KIA Stinger has enough performance chops to put it on par with Germany's best offerings. The base model's 2.0L engine is a great place to start, but the V6 is a much smoother choice. As you accelerate, you'll be rewarded with a refined growl and a top speed of 167 mph. It's got strong low-end power, and its eight-speed automatic transmission yields quick, smooth shifts in Sport mode. While RWD is the most common configuration, the optional AWD system brings the aforementioned limited slip rear differential and torque vectoring.
The new 2019 Stinger is crafted of high-strength steel and a five-link independent rear suspension, which gives it superb handling. On GT models, you'll get Brembo brakes, adjustable dampers, and staggered 19″ Michelin tires. To live up to its trackside potential, consider a stiffer suspension tune and softer, grippier tires.
Safety – 2019 Kia Stinger dealer
At the time of this writing, neither the IIHS nor the NHTSA has taken the 2019 KIA Stinger in North Carolina through any crash tests. However, as you might expect, every Stinger is outfitted with the usual safety gear, and this year, blind spot monitoring is standard. On certain models, you can get a heads-up display and a surround camera system. While auto emergency braking isn't available on the base model or the GT, it's standard on all other trims, as are auto headlights, adaptive cruise control, and active lane control.
Call Today to Schedule a Test Drive
Whether you're looking for a track-ready vehicle or you simply want to make your daily commute a bit less mundane, the 2019 Stinger is a great choice. Stop by Battleground KIA, our North Carolina KIA dealership, to take a test drive. Alternatively, you can view our inventory online or call us for more details. We look forward to seeing you in our North Carolina showroom soon!