New Kia Greensboro Buyers Guide – 2019 Kia Niro for Sale in Greensboro NC near Winston Salem
Greensboro Buyers Guide – 2019 Kia Niro
Vehicle Overview
The Kia Niro is a new plug-in hybrid crossover that's designed to give drivers impressive performance and fuel economy. It has a modern design and plenty of high-tech features that are fit for the future. The 2019 Kia Niro has received a very minor refresh. If you're interested in getting a new 2019 Niro in Greensboro North Carolina, come on down to Battleground KIA today. You can also check out our Greensboro buyers guide for more information about this unique vehicle.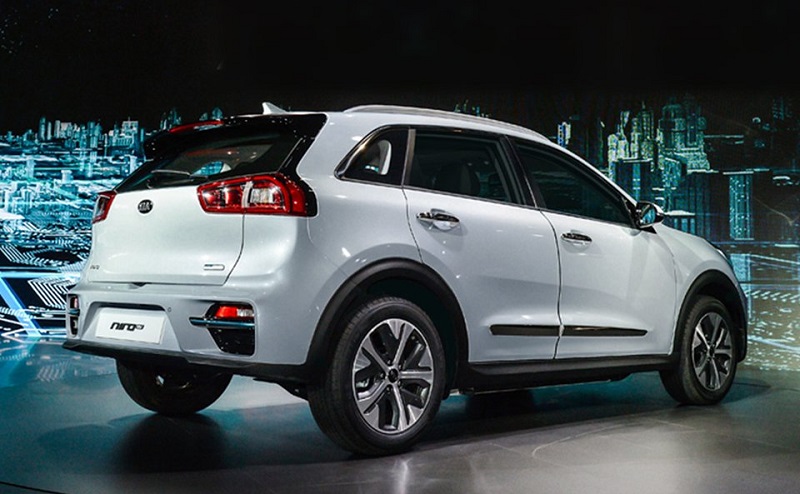 Exterior – 2019 Kia Niro
The Niro has a beautifully designed exterior. Its wide stance and sporty front-end give it an overall aggressive appearance. Sweeping curves are used throughout the body. These aren't just for looks. They help to reduce drag and make the Niro more aerodynamic. The curves are complemented by air intakes on the front. They help to redirect air so that you're not slowed down. The new Niro is sporting Kia's signature tiger-nose grille. It's surrounded by angular headlamps. You can get the Niro with powerful LED headlights and LED signal lights. Six different exterior colors are available. These include familiar neutral shades and eye-catching vibrant hues like Gravity Blue and Runway Red. Stop by our dealership in Greensboro North Carolina to learn more about your exterior design options on the 2019 Niro.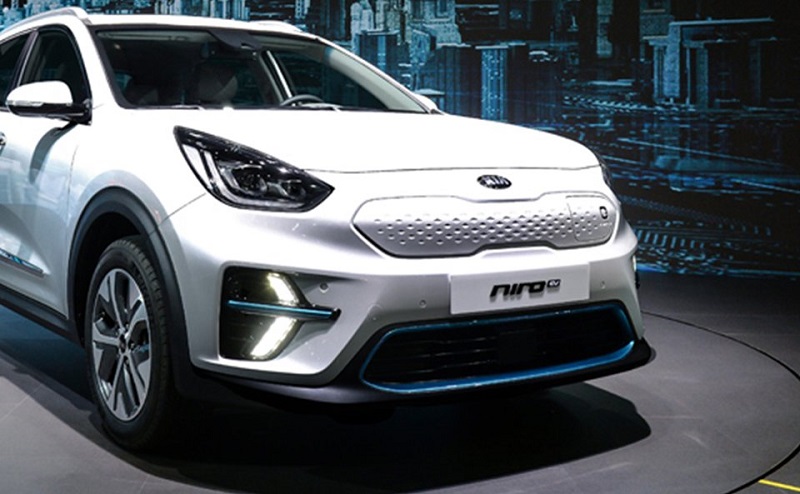 Interior – Kia Niro in Greensboro NC
The new 2019 Niro has a sophisticated interior with many comfortable amenities. The seats are available with two-tone leather. The material is plush and durable. It also has neon blue accent stitching for some attractive contrast. You can get the seats with a powered adjustment system. It features 10 points of adjustment and a memory system that makes it easy for multiple drivers to get comfortable. In the rear, there is room for three additional passengers. The rear bench features a 60/40 split design. It allows you to customize your seating and cargo needs. With the rear seats folded down, there are approximately 54.5 cubic feet of storage space. When it comes to technology, Kia doesn't disappoint with the Niro. Every model comes with a 7-inch touch screen display. It's compatible with Apple CarPlay and Android Auto. Built-in applications for navigation, hands-free communication, and more are also available. To keep your devices charged, the manufacturers offer plenty of USB ports and an optional wireless charging pad. Check out the interior of the 2019 Kia Niro by visiting Greensboro KIA dealership today.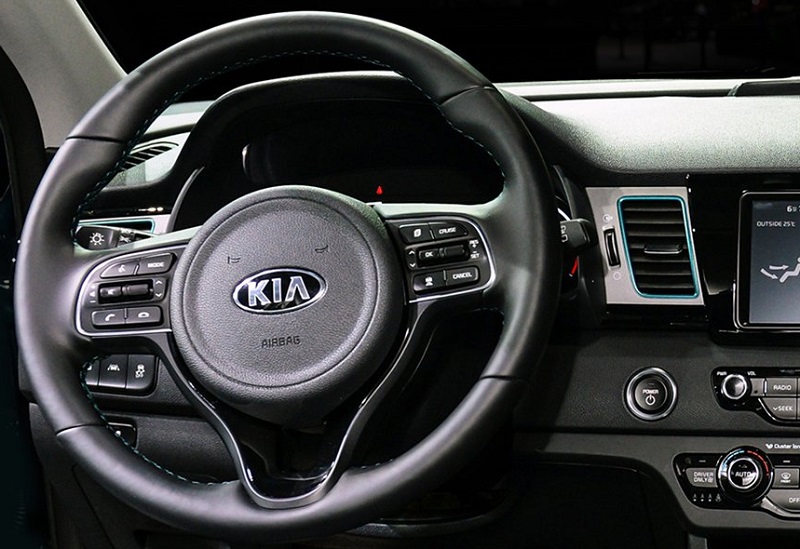 Mechanical – Kia Niro specs in Greensboro
Kia has made sure that the 2019 Niro is built to last. The body of the crossover is made of high-strength steel. The material adds rigidity and toughness. Despite the rugged material used, the Niro is relatively lightweight. This helps to improve fuel economy and handling. On the road, bumps and dips are no problem for the Niro. It has a multi-link suspension system on the rear wheels. This system can handle tougher road conditions with no problem. The larger wheels also help. The Niro has a ground clearance of 6.3 inches. While the Niro uses a front-wheel-drive system, its impressive build makes it ready for challenging driving environments. For more information about the Niro's mechanical features, stop by Greensboro KIA dealership.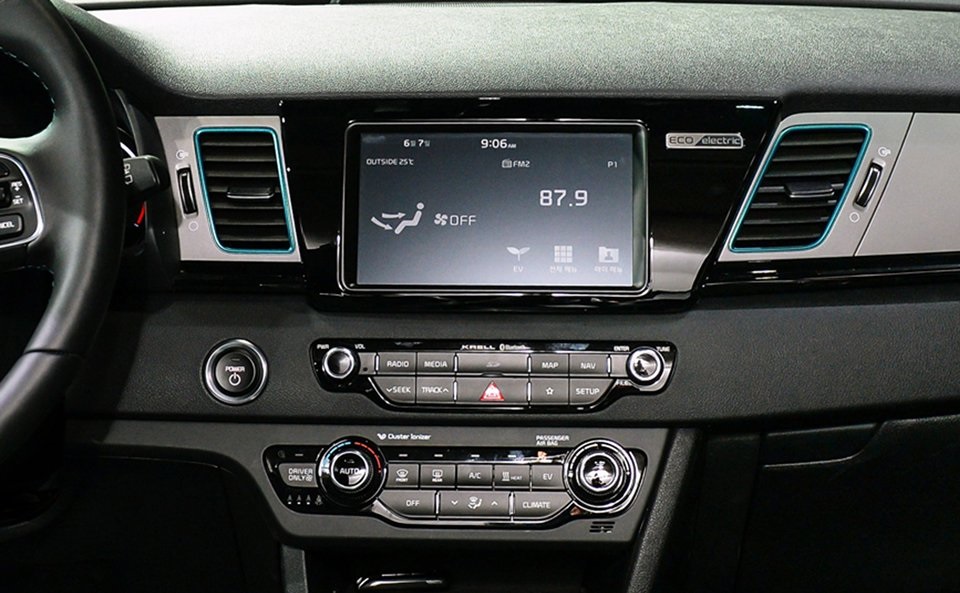 Powertrain – Kia Niro specs in Greensboro NC
No Greensboro buyers guide is complete without some powertrain information. The new 2019 Niro is a plug-in hybrid crossover. It uses a traditional engine and an electric motor. All models come with a 1.6-liter engine. It has four cylinders a utilizes direct injection fuel technology for enhanced performance. The engine is paired with an AC Synchronous Permanent Magnet motor. These two systems can provide you with a combined 143 horsepower and 195 pound-foot of torque. The Niro also uses a six-speed dual-clutch transmission system. In total, you can expect to get 52 MPG city and 49 MPG highway. Stop by Battleground Kia to take a closer look at what the new Niro has underneath its hood.
Safety – 2019 Kia Niro dealer
Drivers who get the new Niro in Greensboro North Carolina are getting a vehicle that's designed to be safe. The body of the crossover uses a unique manufacturing process. The Iso-Structure design offers exceptional strength. It's paired with engineered crumple zones in the front and back. The crumple zones absorb the force of impact while the rigid body deflects it away. To add even further protection, high-tech airbags are used inside. Advanced sensors will detect when an accident occurs and deploy the airbags to keep you safe. Many active safety features are also available. Blind-Spot Monitoring and Rear Cross-Traffic Alerts use sensors to detect other drivers you can't see. The former can be beneficial on congested streets when you're trying to change lanes while the latter is designed to help you back out into oncoming traffic. Additional features like Forward-Collision Warning, Adaptive Cruise Control, and Lane-Keeping Assist are also available. They all use a series of cameras and sensors to monitor your surroundings. The Adaptive Cruise Control system will ensure that your vehicle is moving with the flow of traffic while the Forward-Collision Warning system looks out for potential accidents. The Lane-Keeping Assist keeps you alert and helps you stay in your lane. Check out our Greensboro buyers guide for more information. You can also visit our Greensboro KIA dealership to see these unique systems in action.
Whether you're looking for a new vehicle for your daily commute or one that can serve your family well on a road trip, consider the 2019 Kia Niro. With its high-tech equipment, impressive capability features, and high fuel economy ratings, there's no reason to not give it a test drive. Stop by Battleground Kia today. We're committed to your satisfaction and will do all we can to help you find the vehicle of your dreams.
*Article for general informational purposes, for complete details please contact the dealership.