New Kia 2020 Kia Telluride vs 2019 Honda Pilot – Greensboro KIA for Sale in Greensboro NC near Winston Salem
2020 Kia Telluride vs 2019 Honda Pilot – Greensboro KIA
2020 Kia Telluride vs 2019 Honda Pilot
When you're looking for a new mid-size SUV, where do you turn? This vehicle class is one of the most competitive in the world, and automakers are trying their best to keep up. There are many SUVs to consider if you're looking for a vehicle in this category. One of the best, however, is the Kia Telluride. The Telluride has hardly reached the market, and it has already been named "Best in Show" by Cars.com at the 2019 Detroit Auto Show. Considering this SUV is competing against best-sellers like the 2019 Honda Pilot, you must be thinking that it offers something above and beyond the competition. And it does! While you can read about the Telluride beforehand, the best way to see what it offers is by testing it out near High Point Winston Salem Asheville when it arrives at Battleground Kia.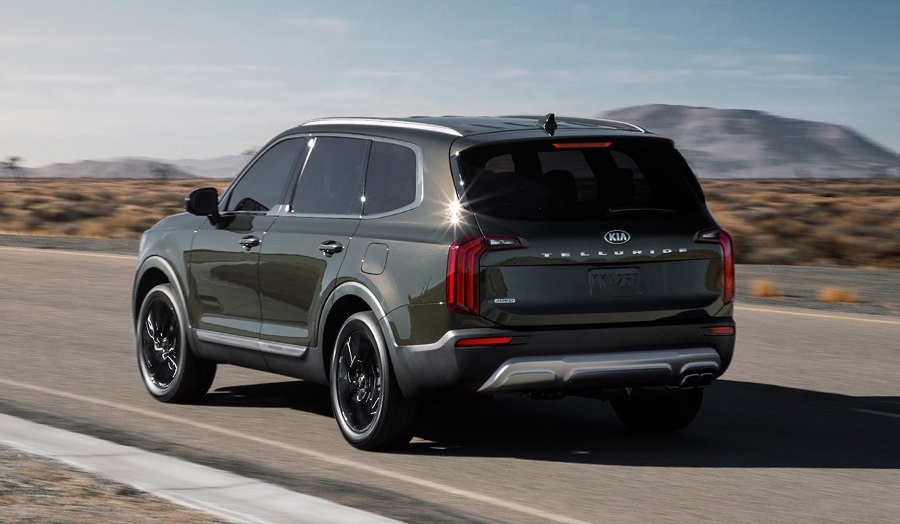 Exterior – 2020 Kia Telluride
When it comes to exterior design, there is no SUV more captivating or awe-inspiring in 2020 than the Kia Telluride. With accentuated curves, smooth edges, and refined elegance at every angle, the Kia Telluride looks equally ready for a night out in town as it is capable of hauling a trailer for weekend getaways. Bright LED lights, a chrome-accented grille, and standard 18-inch wheels are all highlights of the Telluride, which has four exterior colors to choose from. While the Pilot also features a slight style update in 2019, its looks are not quite as head-turning what the Telluride offers. This year, while Kia takes a bold move to add impressive looks to its SUV, Honda takes a more conservative approach and only makes moderate changes to its popular SUV's exterior.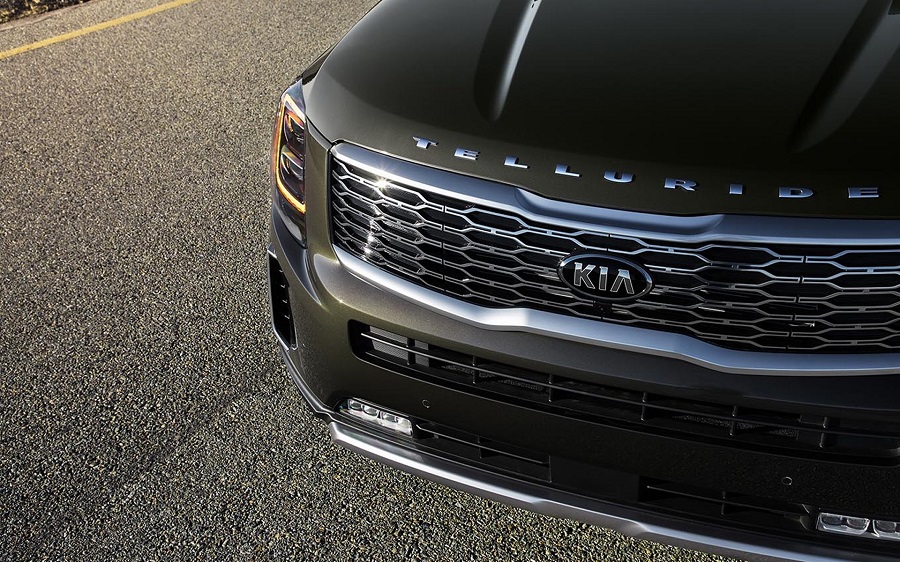 Interior – Kia Telluride in Greensboro NC
When you're comparing the 2020 Kia Telluride vs 2019 Honda Pilot, another area where the Telluride excels is interior amenities. The Telluride in Greensboro North Carolina pulls out all the stops this year with a stunning interior that features room for seven or eight passengers, depending on whether you want a three-seat configuration in the back row or a second row with captain's chairs. The Telluride at Battleground Kia near High Point, Winston Salem, Asheville is also available with a number of add-on features and amenities. There are three premium interior color schemes that you can choose from in this year's SUV, including premium ultra-soft Nappa leather. Meanwhile, the 2019 Honda Pilot gets a slightly cramped third row of seats, and its seats are not as comfortable.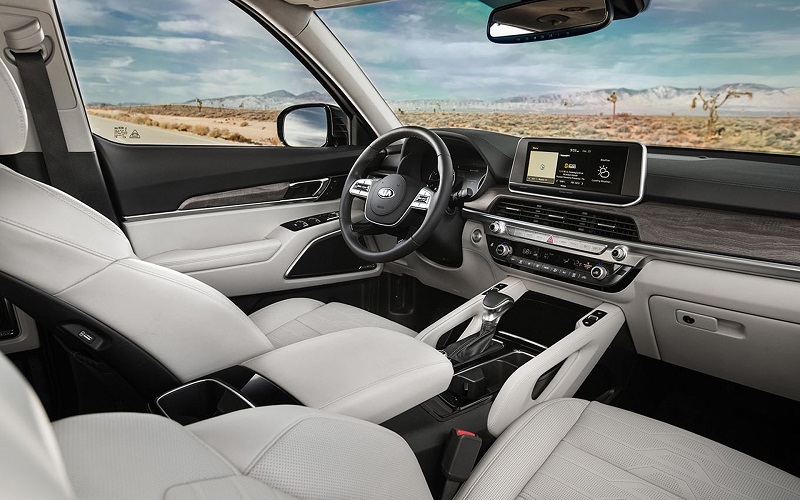 Infotainment – Kia Telluride specs in Greensboro
When you are stuck in traffic, keeping passengers happy and entertained can seem like a lot of work. Fortunately, the Kia Telluride lends a helping hand. With the Telluride, you have the option of upgrading to a larger 10.25-inch infotainment display screen. This screen is user-friendly and easy to use thanks to its clear, user-friendly graphics. Another available feature, which you can inquire about at Battleground Kia near High Point, Winston Salem, Asheville, is the Telluride's passenger intercom system. This system, which has both safety and convenience in mind, lets the front seat occupants talk to passengers in the second and third rows without turning around or taking their eyes off the road. This system, like the SUV's infotainment system, can be paired with Bluetooth for convenience. With the Honda Pilot, in contrast, the largest screen you can upgrade to is an eight-inch display screen with customizable driver settings. With this system you'll get standard amenities like Bluetooth, Apple CarPlay, and Android Auto, but you won't get the advanced communication system that the Telluride offers.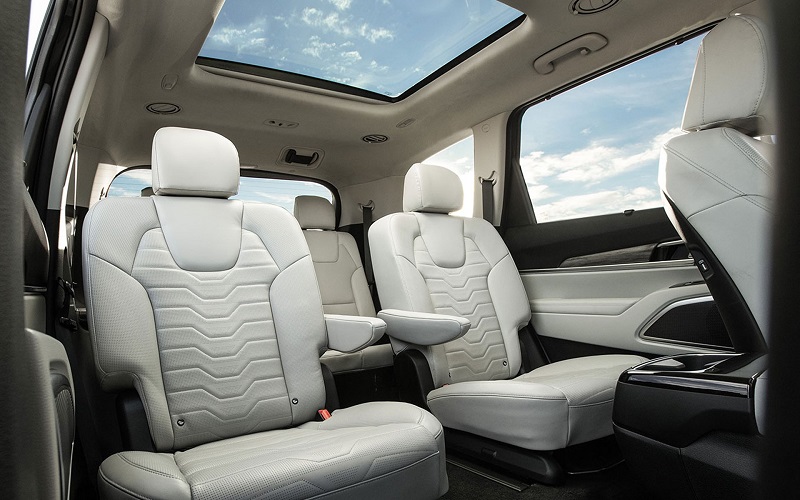 Safety – 2020 Kia Telluride dealer
Safety comes first in the 2020 Kia Telluride in Greensboro North Carolina. When you're comparing the 2020 Kia Telluride vs 2019 Honda Pilot, you'll see that the Telluride offers quite a bit in the realm of standard safety amenities. The 2020 Telluride features dual occupant airbags in the front row for both the driver and passenger. It also has side-curtain airbags in all three rows. The 2020 Kia Telluride also comes with a number of driver-assist aids like available blind-spot monitoring, rear exit assist, and highway driving assist. With the Honda Pilot, standard safety technology is sparse, and add-on amenities cost more money.
Performance – 2020 Kia Telluride specs
If you're looking at an SUV near High Point, Winston Salem, Asheville, you're probably wondering how its performance specs compare to the competition. When push comes to shove in the 2020 Kia Telluride vs 2019 Honda Pilot in Greensboro North Carolina, it is clear to see that the Telluride stands out in its class. The Telluride is powered by a 3.8L, six-cylinder engine that has a maximum of 291 HP at 6,000 RPM. This engine also gives the Telluride a torque output of 262 LB-FT at 5,200 RPM. The engine is paired with an eight-speed automatic transmission. The larger engine, on the top model, produces 291 HP. The 2019 Honda Pilot gets the same engine across the board, which produces a maximum of 280 HP at 6,000 RPM and a maximum torque of 262 LB-FT at 4,700 RPM. A six-speed automatic transmission is standard.
When it comes down to the wire, there are many good vehicles to consider in the class of 2019 midsize SUVS. But with its sculpted exterior, luxurious interior, and plenty of fine amenities, the 2020 Kia Telluride stands out from the crowd. Soon, you'll be able to test drive the Telluride for yourself near High Point, Winston Salem, Asheville. You can even test out the Pilot too to see how they compare. Meanwhile, don't hesitate to contact our staff to ask questions about how these vehicles compare and schedule a time to see them.