New Kia 2019 Kia Optima vs 2019 Nissan Altima in Greensboro NC for Sale in Greensboro NC near Winston Salem
2019 Kia Optima vs 2019 Nissan Altima Greensboro NC
View Inventory


Vehicle Overview
The luxurious 2019 KIA Optima is a luxury sedan designed to bring subtle beauty and convenient entertainment on the go. And it accomplishes its mission handily. And while the 2019 Nissan Altima is a formidable opponent, it just doesn't quite have the sizzle that the Optima brings to the table. It's a reborn design that makes the Optima just a little more sculpted, more comfortable and quiet to drive in, and more powerful overall. Battleground KIA in Greensoboro North Carolina welcome you to learn more about why the 2019 KIA Optima is a better choice over the 2019 Nissan Altima, no holds barred. Entering the picture with a beautiful tiger nose grille, the Optima shines.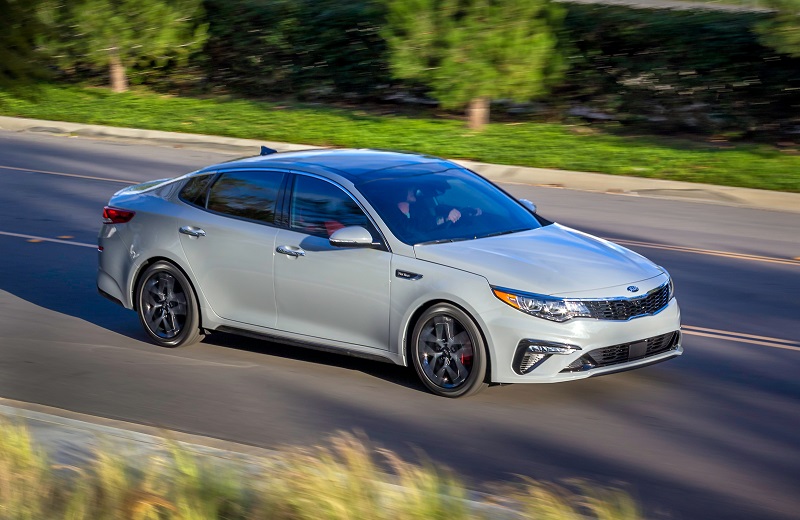 Reliability – 2019 Kia Optima
J.D. Power and Associates ranks the Optima 2nd in mid-size sedans in terms of reliability. The vehicle features a 150-amp alternator (compared to a 120-amp alternator in the Altima). You don't find the Altima in the top 3 most reliable mid-size sedans, either, so that's a good indication that when you buy a Optima in Greensboro North Carolina, you're getting a more reliable vehicle than you would get in the 2019 Nissan Altima. To add onto the reliability, there are a host of amazing safety features that enhance your power at the wheel and make your passengers safer overall. The LS, X, EX, and SX trims of the Optima give you tremendous power over your driving experience with Electronic Stability Control, Internal Emergency Trunk Release, and Hill Start Assist Control, among many dozens of other safety features that make it easy for you to commute or travel any road you choose to travel. With reliability and true safety emphasis, the Optima gives you everything you need to be confident during every journey out into the world.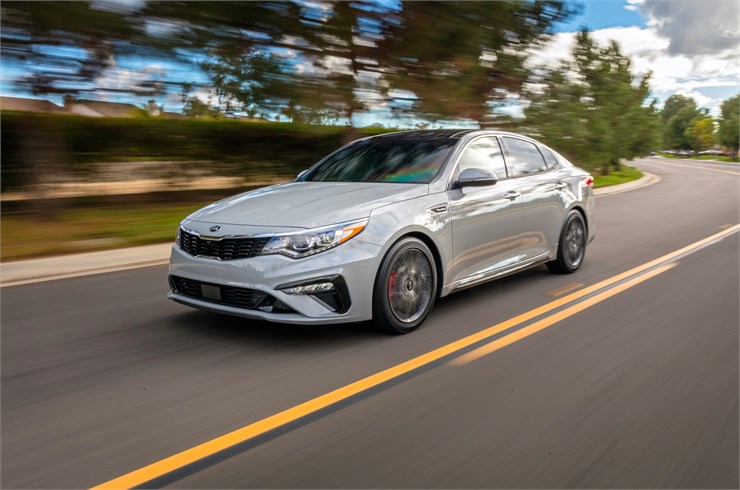 Interior – 2019 Kia Optima in/near Greensboro NC
The interior of the Optima nets you over an inch more head and legroom than you'll get with the Altima. The interior of the Optima brings a more upscale flair, while the Altima simply gives you the basics of comfort. The 2019 KIA Optima has an additional .4 inches of cargo capacity as well, although it's only a narrow victory. Both vehicles come with a standard 8″ color touchscreen that puts the world at your fingertips on the go, but thanks to extra leg and headroom, as well as classier interior materials, the 2019 Optima just wins out. Another standout feature is that KIA has given you a Active Headrests system which protects you in whiplash inducing collisions, something the Altima doesn't feature. The interior technology features Apple CarPlay and Android Auto compatibility, a sufficient 6-speaker system that's standard, and a Harman/Kardon® QuantumLogic™ tech system that gives you amazing 7.1 surround sound in blistering power. The Optima just features more tech, more comfort features, and classier materials all the way around, making for a superior interior that you can truly feel at home in.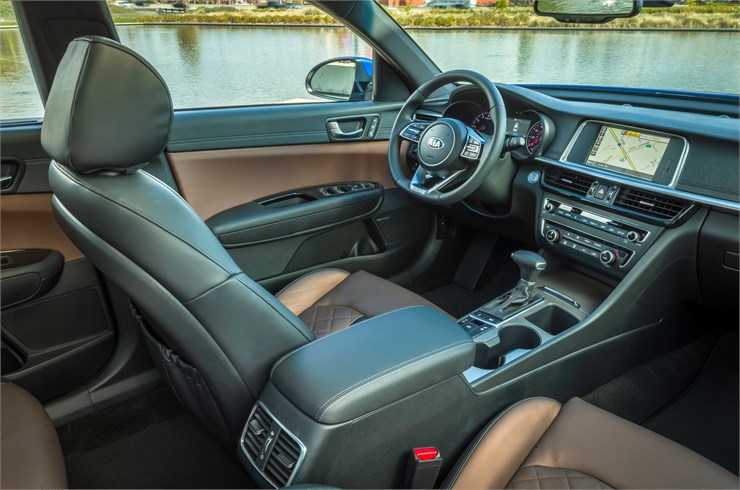 Mechanical – Kia Optima specs in/near Greensboro
When you want a vehicle at Battleground KIA that gives you powerful and precise control, without all of the disruption, you need a vehicle that has larger rotors and brakes than the Altima offers. Stopping power is extremely impressive in the Optima, which does have the larger rotors and brakes, giving you a more precise steering experience and a generally safer drive. Stopping power does matter, no matter how many reviews ignore this important facet of both vehicles. The turning circle of the Optima is .3 feet tighter than the Altima, and this makes for much better handling in general. If you want a truly superior driving performance, the Optima is going to give you what you're looking for. It comes packed with a 2.4-liter inline four-cylinder engine that gives you 185 horsepower. And while the Altima has an engine that gives you 188 horses, it's not enough extra power to make up for the superior handling and stopping power of the Optima.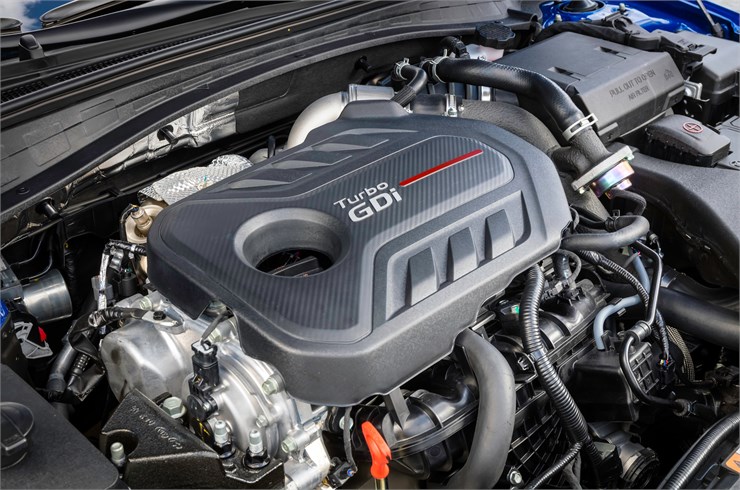 Test Drive Today – 2019 Kia Optima dealer
Battleground KIA in Greensboro North Carolina is a great place to test drive the Optima. In the battle of the 2019 KIA Optima vs 2019 Nissan Altima, we're confident that the Optima wins out hands down. And we'd love to be the first dealership to give you your first taste of this terrific luxury sedan. Better than it being a luxury sedan, it gives you all of those perfect interior touches without making you pay tens of thousands of extra dollars extra. It's packed with interior perks, exterior style, and pure energy, something that any good mid-size sedan should come with. If you want to get your first taste of what it's like to experience the superior handling of the 2019 Optima, please write to us today to request a quote or simply call us to setup a test drive. We look forward to showing you why the Optima beats out the Altima in so very many categories, and most importantly, overall. Call or write today!