New Kia 2019 Kia Niro EV – Greensboro North Carolina for Sale in Greensboro NC near Winston Salem
2019 Kia Niro EV – Greensboro North Carolina
Vehicle Overview
Here at Battleground Kia, we are very excited to let everyone know that the electric crossover Niro EV that the rest of the world has been enjoying is coming to the United States! The Niro already has a hybrid and plug-in hybrid variation, but the EV will be completely electric. Using state of the art technology, the 2019 Kia Niro EV offers impressive power and range on a single charge. Proudly serving Greensboro High Point Winston Salem, the staff here knows how important both power and convenience are to drivers. That's one of the reasons we here at your local Greensboro Kia dealership are so glad that the Niro EV will come in two different trim levels to choose from.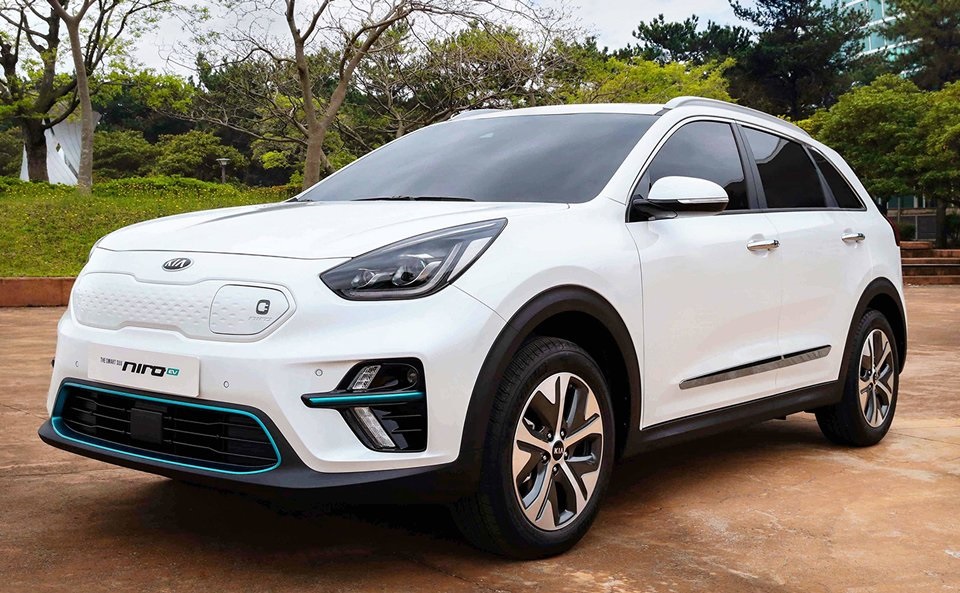 Exterior – 2019 Kia Niro EV
One of the things we like the most here at your local Greensboro Kia is the way this car looks. Drivers can choose to upgrade to available 17-inch alloy wheels. Rather than having a front intake grille, this electric crossover has a conveniently located charging port. The front fascia on the Niro EV is designed to give drivers an aerodynamic and efficient vehicle. Drivers will find blue accents on the grille and an arrowhead design on the LED daytime running lights. Another place you will find blue accents is on the bumper, making the interior and exterior design of this vehicle quite cohesive. Although it looks very similar to the gasoline powered versions of the Niro, there are definitely exterior features on the EV that make it stand out.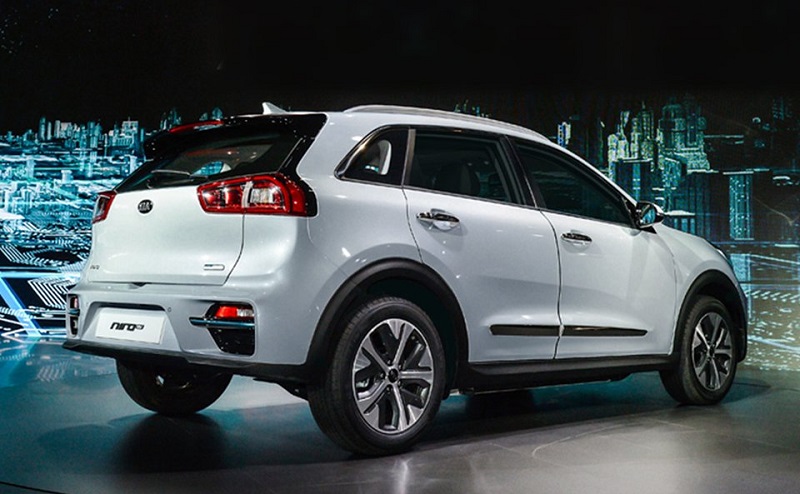 Interior – Kia Niro EV in Greensboro NC
Those driving the 2019 Kia Niro EV in North Carolina will be treated to many state-of-the-art interior technological features. To give it a style of its own, this vehicle will feature very distinctive blue interior accents. The center console features a panel that has a knob for gear selection rather than a traditional lever. On top of the dash of the 2019 Kia Niro EV, drivers will see a line of LED lights that indicate how much battery power is remaining. Drivers will enjoy the 3 included USB ports for powering their smart devices.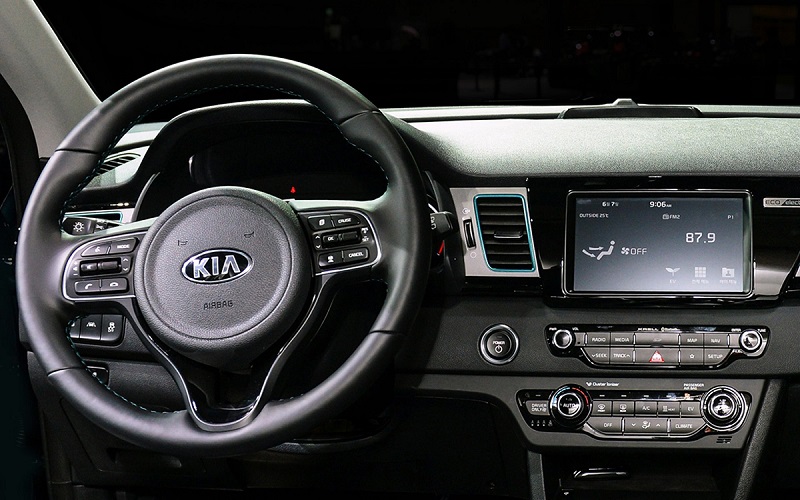 Mechanical – Kia Niro EV specs in Greensboro
A lot of impressive technology went into the mechanical design of the 2019 Kia Niro EV. It comes with a Coasting Guide Control system (CGC), which helps the vehicle know when to coast. This is accomplished using map data in combination with your navigation route. At the optimal time, the CGC will let off the accelerator and coast, which allows for regenerative braking and energy recovery. Another we love here at Battleground Kia is that drivers have two paddles on the steering wheel for determining the amount of regenerative braking they would like to happen. There are three very different levels of strength when it comes to regenerative braking in the Niro EV.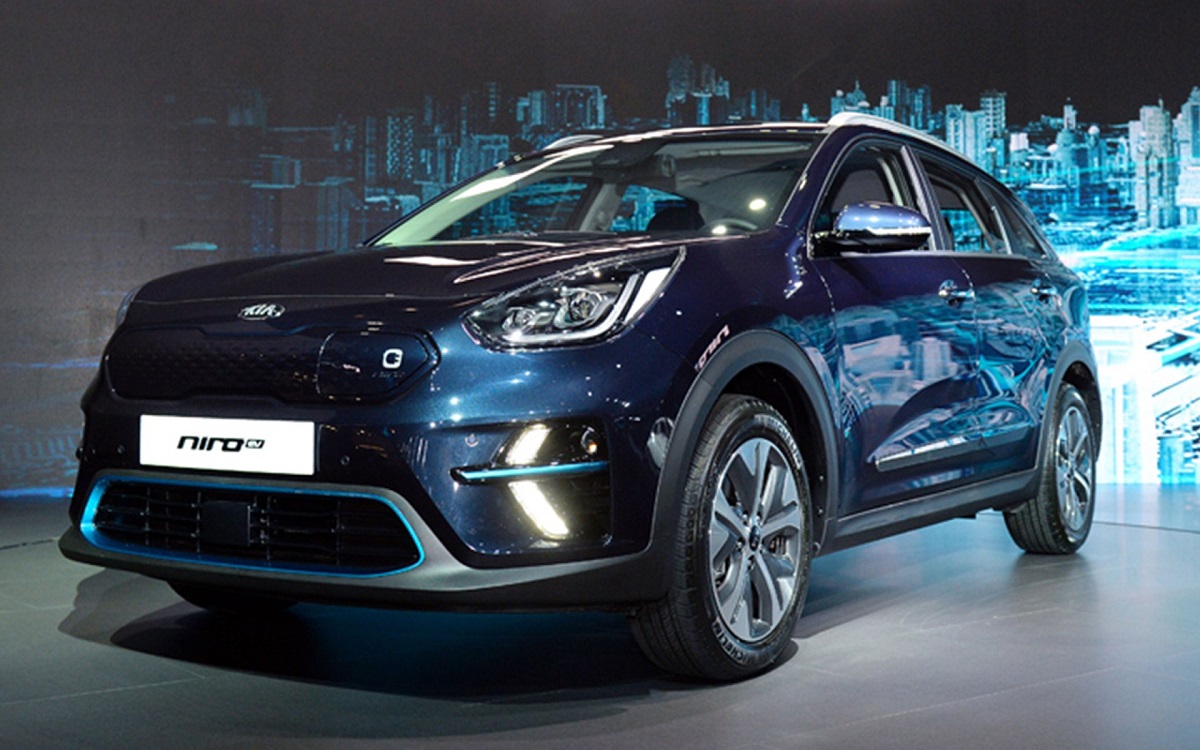 Powertrain – Kia Niro EV specs in Greensboro NC
Drivers of the 2019 Kia Niro EV in North Carolina will find it to be surprisingly powerful. It can get from 0 to 60 MPH in under 8 seconds, an impressive feat for any crossover, but especially impressive for an electric one. Thanks to the fact that this vehicle has instantaneous torque response, it should feel nice and responsive as you drive around town. Powering this vehicle is a 64.0-kWh lithium-ion battery pack. The electric motor found in this vehicle will provide drivers with an estimated 201-hp and 291 lb-ft of torque. The 240-mile range that is available on a single charge is thanks to the liquid-cooled state-of-the-art battery. Speaking of the charge, one thing drivers of the 2019 Kia Niro EV in North Carolina can enjoy is the quick-charge feature. Using the CCS DC fast-charging setup allows you to get the battery up to 80% after just 75 minutes. When plugged into a 240-volt Level 2 charger, it will take approximately nine and a half hours to get to a full charge if the battery has been completely depleted.
Safety – 2019 Kia Niro EV dealer
One thing we have learned from our years of serving Greensboro High Point Winston Salem is how important safety is to the drivers here. Kia values the safety of their drivers, which is why they have included many advanced safety features. Some of the features that are available to drivers of the 2019 Niro EV include adaptive cruise control, lane trace assist, forward collision mitigation, automatic high beams, and a driver attention monitor. Another feature your local Greensboro Kia is excited to share with you is the low-level automated driving system. This system is designed to help in very dense traffic situations.
Interested in learning more? Please feel free to contact us here at Battleground Kia, serving Greensboro High Point Winston Salem. We would be happy to answer any questions you may have and look forward to the opportunity to help you find your next vehicle.
*Article for general informational purposes, for complete details please contact the dealership.