New Kia 2018 Kia Soul Trim Levels in Greensboro NC for Sale in Greensboro NC near Winston Salem
2018 Kia Soul Trim Levels in Greensboro NC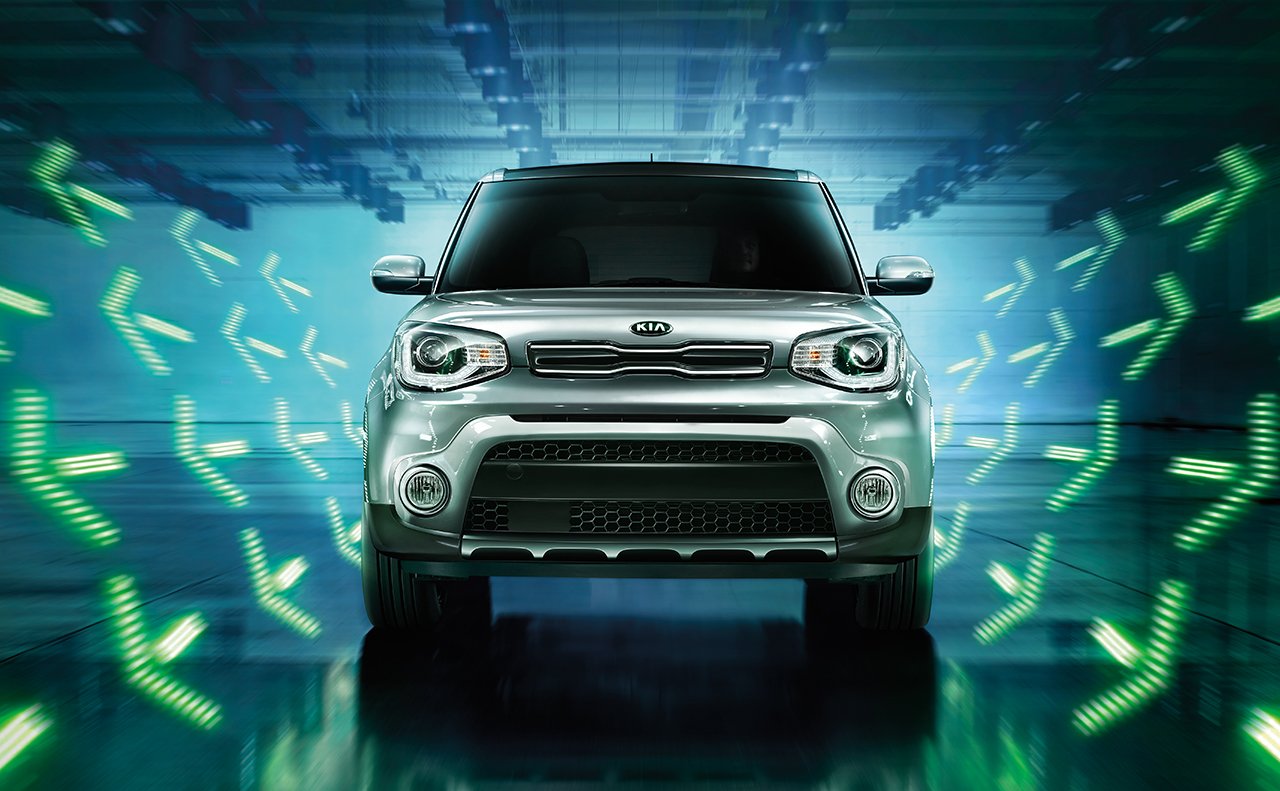 View Inventory
Vehicle Overview
The 2018 Kia Soul is one of the snazziest vehicles on the road. It's a hatchback with an SUV mentality, plenty of sporty colors to choose from, and more storage than a vehicle of this size should be able to brag about. Here at Battleground KIA, we absolutely love the 2018 KIA Soul, and we're excited to tell you about the 2018 Kia Soul trim levels. Trims give you the option to upgrade your vehicle with features that might not be included in the base trim. And that's no problem. Some people want the minimum and others want to go all out with their vehicles. Trim levels in Greensboro North Carolina give customers the option to do both with little trouble. When you visit us, you'll be able to see any of these three gorgeous trims and decide which one is the right one for you.
2018 Kia Soul Hatchback (Base Model)
The base model 4-door hatchback is one of the most popular 2018 Kia Soul trim levels. Why? Because it gets the job done. It features a 1.6-L I-4 engine (130 horsepower) and 6-speed manual transmission for smooth, fun transitions. Accelerate but don't overdo it. It's packed with standard safety features like brake assist, ABS and driveline traction control, and remote keyless entry. It also has a beautiful interior with two-tone color options. Cloth door panel trim comes standard on the base model, making for a very sporty and cozy interior. We love this one here at Battleground Kia in Greensboro North Carolina. Like us, it's serving High Point Winston Salem Greensboro drivers with the things you expect of a good hatchback, but it's not going to break your piggy bank. If you want more, let's look at the other two trim levels.
2018 Kia Soul's + (Plus) Hatchback
The + trim is going to be serving High Point Winston Salem Greensboro drivers with the "more" that they demand. Featuring a 2.0-liter I-4 engine, this one kicks up the fun to 161 horsepower, a remarkable number for a vehicle of this size. You might call it the little engine that could and does. This one features a 6-speed manual transmission with OD. The Gray two-tone interior is simply beautiful and one of the classiest you'll find in a hatchback today. It just makes the vehicle stand out more, and we're certain that your passengers are going to love the personality of this one. Enjoy premium entertainment with SiriusXM AM/FM/Satellite with seek-scan, voice activated radio, and steering wheel mounted audio controls for convenience and safety. You're the captain of the ship when you buy the + trim! The exterior of the + is really something to behold, too, with Black w/chrome surround grille and power liftgate to make your life simpler when you're packing or returning from a shopping spree. There's so much to love here and it's a terrific middle of the road price for people who want more but who also want to watch how much they're spending on the vehicle. Overall, this is your happy medium.
2018 Kia Soul's ! (Exclaim) Hatchback Trim
For maximum everything, go with the ! (Exclaim) trim. You're going to get 201 horsepower via a 1.6-L I-4 engine, coupled with a 7-speed auto-shift manual w/OD and auto-manual transmission. And remember, you also get to pick the Wild Orange exterior color. It's not available in the base model, but you can pick the + or ! trim. The Tech Package on this one is out of this world, so if you're into tech, make sure to ask about it. It gives you a 10-Way Power Adjustable Driver's Seat and Blind Spot Detection, to name just a couple of the exciting things in the package. If you want to go all standard with the ! then you're never going to want for features. It comes with a full security system, Traction Control, Brake Assist, Air Filter system, auto air conditioning, and ever so much more that will delight fans of this adorable hatchback. For a hatchback with power, technology, and safety features galore, you can't go wrong with the ! (Exclaim).
See It Today
The powertrain offers a new and more powerful engine so that you can take on the city streets and highways with greater ease and control. The vehicle comes with a turbocharged 178-horsepower engine and a seven-speed dual-clutch transmission that is designed to provide you with an adaptive smart drive system. It comes with plenty of horsepower and torque to make it safer to easily pass other drivers on the road when needed. You'll also get a host of smart features that are designed to improve your overall driving experience. Become familiar with our 2019 Denver Review of the new Kia Soul and then come down and see us at our dealership in the High Point area.
Everyone here at Battleground invites you to stop by and see us to test drive any of these trims. You'll love the base model, but if you find it's wanting in power, your choice to upgrade can be one of the wisest decisions you can make, and we do everything we can to make sure that we have specials that make it worth it to upgrade. When you pay for the additional features, you're investing in a vehicle that's going to take you places in life. This is going to be your little home on the way to work, on the way to school, on your way to play, and on your way home. Make sure that you have all the tech, safety, and convenience features to make things truly a home away from home for you. Our friendly sales staff will explain each and every feature to you during your first test drive, and we're always open to answering questions. The more you know about your vehicle before you buy it, the better the purchase is going to feel, so never hesitate to ask us about anything you need to know.
*Article for general informational purposes, for complete trim level details, please contact the dealership.