New Kia 2018 Kia Forte Trim Levels in Greensboro NC for Sale in Greensboro NC near Winston Salem
2018 Kia Forte Trim Levels in Greensboro NC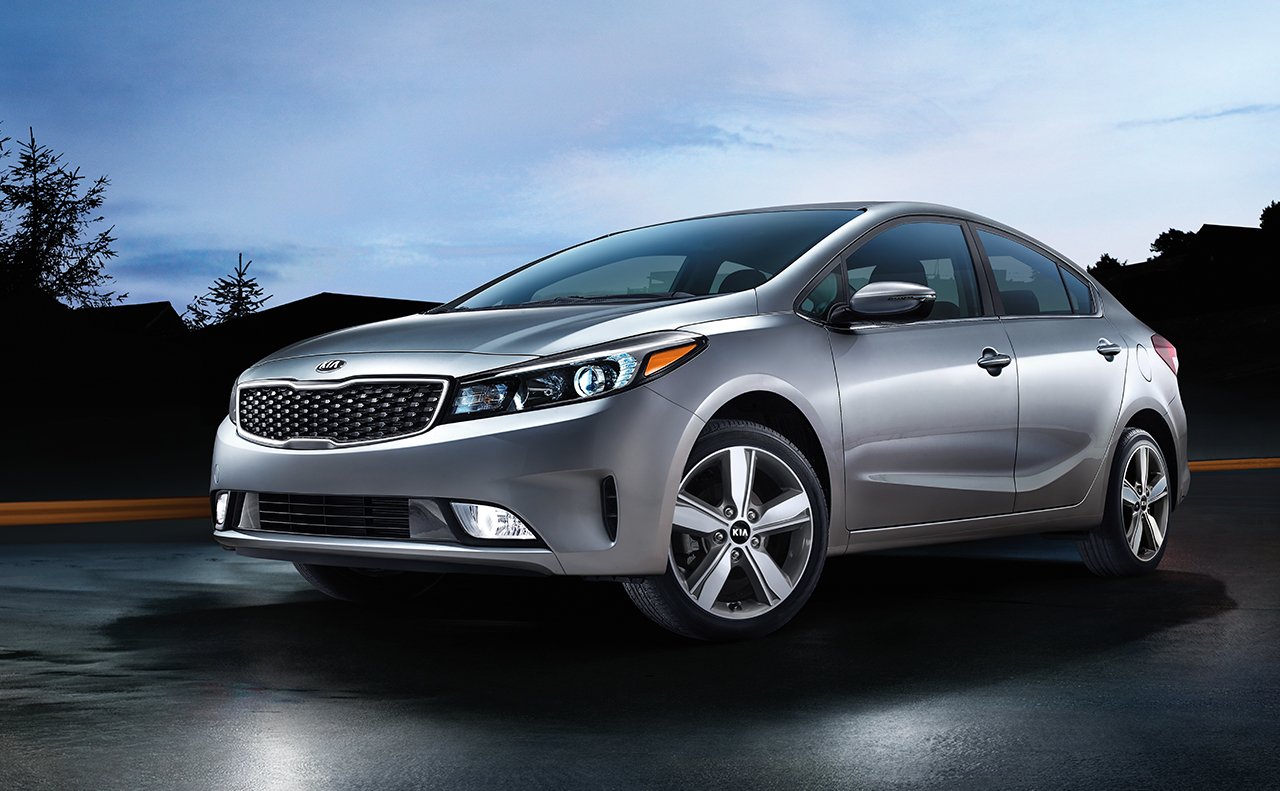 View Inventory
2018 Kia Forte Overview
The Forte is an award-winning compact sedan that continues to have a large following in Greensboro North Carolina. Here at Battleground KIA, we find it's one of our most appealing models, both in terms of its handsome stylishness and its sturdy workmanship and engine prowess. It continues serving Greensboro High Point Winston Salem drivers with premium driving experiences and an excellent cabin experience, as it's one of the quietest cabin rides to be found anywhere. We're here to look over the trim levels of the 2018 KIA Forte so that you can make up your mind about which one to buy next. Here are the 2018 Kia Forte trim levels that are available to you at our dealership.
2018 Kia Forte LX (Base Model)
The LX is a beautiful 4-door sedan featuring a 2.0-L I-4 engine that produces 141 horsepower, a fine powertrain for a vehicle of this size. The base model comes with a 6-speed manual transmission, giving you complete power over your transitions and the road underneath you. Everything is in your hands. As far as trim levels go in North Carolina, this is the base model, so you're going to get everything they've poured into the 2018 KIA Forte without getting many of the more advanced features. We find at Battleground KIA that the base model is often a perfect match for some customers because it's simply less expensive and gives you just enough to get a full-driving experience with a new model. If you want more, though, it's there in the higher trims. The LX comes in sedan or hatchback.
2018 Kia Forte's S Trim
The S is a very popular model in Greensboro North Carolina, serving Greensboro High Point Winston Salem drivers with the additional features they need while still not breaking the piggy bank. You'll get to choose between two additional colors if you get the S: Currant Red or Phantom Gray, both very appealing. This is a 4-door sedan that gives you the same engine and horsepower as the base model, but the transmission is a 6-speed automatic with OD and auto-manual. It seats 5 and has voice activated radio, steering wheel mounted controls, and terrific 6-speaker audio system, to name just a few of the entertainment features in this one.
2018 Kia Forte's EX Trim
The EX kicks things into a more powerful mood with its 2.0-L I-4 engine (164 horsepower), so perhaps the best reason to go with this trim is the increased power you're going to get from a better engine. The sedan comes with the more powerful engine, but the hatchback version of this trim has the same powertrain as the base model. Upgrade to a premium plus package and you can get a power sunroof, pedestrian detection, and Autonomous Emergency Braking, to name just a few of those premium features in the package. That's one of the great things about upgrading trims. KIA gives you so many features bundled in together so that if you come in and say, "I want more technology features," they're going to have that bundled up for you and ready to go. It's your world here.
2018 Kia Forte's SX Trim
The Forte SX is a Hatchback, and it gives you 201 horsepower via a 1.6-L I-4 engine. You'll also get a 7-speed auto-shift manual w/OD and auto-manual transmission to take matters into your own hands more. If you prefer to be in control of your vehicle at all times, and you want the extra burst of power, then you're going to love the SX. The interior colors are black or gray, and the SX premium tech package is going to thrill a lot of people out there who rely on technology for their everyday activities. Want heated and ventilated front bucket seats? You got it! How about dual-zone automatic temperature control? KIA has you covered with that tech package available on the SX. It gives you more control over the way that your little home away from home feels.
See It Today
As you can see, we're big fans of all the 2018 Kia Forte trim levels, but you're going to have to choose just one, and that can be a hard task when you look at everything and simply love all of it. You're going to have to pick and choose which package is going to be right for you. Our expert sales staff lives and works around these cars everyday, and it's our solemn mission in life to match people with vehicles that are right for them, their family, and their lifestyle. Some folks would rather have more technology features than more power, and there's a Forte that's just right for them. Other folks would rather have as much horsepower as possible and don't care so much about tech or connectivity features. There's a Forte that's right for them, too. It's our job to make sure that when you buy a car from us, you're satisfied with your purchase and thrilled that you bought it from us. We hope to make you a customer for life, and we can only do that if you're happy with the vehicle that you buy. Call us today to set up a test drive of any trim of 2018 Forte. We'll schedule your test drive and let you see what your preferred trim has to offer you.
*Article for general informational purposes, for complete trim level details, please contact the dealership.